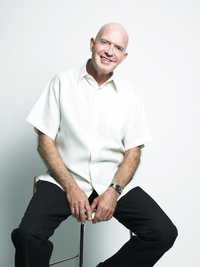 Dr. Gary Ranker (TCHS 1960) of Deer Harbor, WA, and New York, NY, passed away at age 76 in New York City March 28, 2019. The following is excerpted from an obituary by his son, Kevin Ranker, a member of the Washington House of Representatives.
"Drawn to other cultures, he left days after graduating from Redlands to go to Europe. In Cologne, Germany, he studied at the Carl Duisberg Gesellschaft and Thunderbird. By age 30, he was the European Marketing Director and acting CEO in Germany and France for Hallmark International and was later CEO of Textron in Australia. He received his doctorate from Fielding Graduate University in 1983.
Having been approached by Jack Welch to be one of GE's first change agents, he was known as the father of executive coaching. He was cited by Forbes as being one of 'Top Five Executive Coaches on the World' and the Financial Times described him as 'One of the 50 Most Important Global Thought Leaders.'
He was nationally recognized for his powerful activism and bravery as an early champion of the Gay Rights Movement.
Throughout his incredible life, our dad inspired and empowered so very many people to be better, to treat those around them with love, respect and dignity and to absolutely love life. This is how he will be remembered. This is how I will always remember him."
--Kevin Ranker
Publications:
Gary's Website
Gary Ranker. Kindle.
Global Mindset Coaching: Perspectives and Practices from a Coaching Pioneer