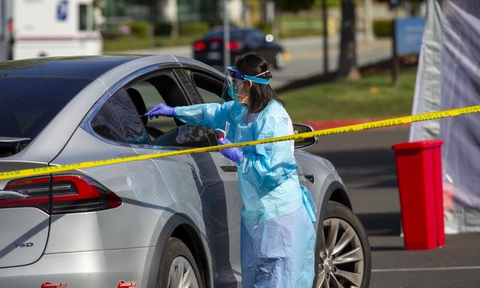 Los Angeles, CA (Thursday, April 2, 2020) — LA County is ramping up COVID-19 testing sites, opening three locations on April 3, 2020 and developing many others countywide. The sites opening April 3 are at the Pomona Fairplex (Gate 17 - W. McKinley/Fairplex Drive), the South Bay Galleria (1815 Hawthorne Blvd., Redondo Beach, CA 90278), and the Antelope Valley Mall (1233 Rancho Vista Blvd., Palmdale, CA 91768). The testing is by appointment only. Walk-up appointments are not available.
UPDATE 29MAY2021—Testing is still a good idea, especially if you remain unvaccinated. Follow the links near the bottom of this article for more information.
UPDATE 29MAY2021—A previous update had an incorrect link to LA County resources. We regret the error and any inconvenience. The pages linked below in the body of the article contain the intended information.
THIS ARTICLE will be updated intermittently. Members may sign in and add comments at the bottom; please limit comments to new testing sites or pertinent public information; nonsense will be removed upon discovery.
At this time, COVID-19 testing is limited to the most vulnerable Los Angeles County residents who are: