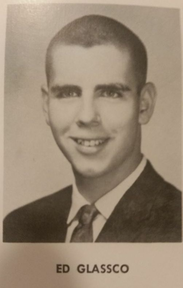 Tribute by Richard Curtis '62: In Judy Hoyt's Facebook tribute post to Heather Irvine started 4/28/20 I made a remark to Judy that she could find a picture of me in the '59 yearbook seated next to Ed Glassco in the sax section in the Tempos dance band. Judy responded with the comment: "Sadly, Ed is gone, too. He was so smart. I remember in Geometry we had a poor teacher that only lasted a year. Ed and Robert Schulz would teach the class when the teacher failed."
It was the first I knew of Ed having passed so I went in search of an obituary which was really hard to find. What I came up with below led me to conclude it was no wonder he was teaching geometry in place of an ineffective teacher while he was a student at TCHS (probably as a freshman or sophomore) and that he deserved a tribute post apart from a listing in the Memoriam file just as Judy had done for Heather.
My own experience with Ed was my freshman year 1958-59 which was Ed's senior year. Ben Godfrey had installed me in the lead alto sax chair coming in from Oak Ave as a freshman. I could handle the music performance at that age that the Tempos were doing, but didn't have the social skills or experience to command the respect of upperclassmen and it could have been ugly if the seniors, particularly my sax section partner Ed, hadn't been accommodating to me. (So were the other seniors - Johnny Kimball, Wayne Broadhag, Dick Gastineau, Clive Acker, Steve Schoenbaum, and Doug Lindsey Douglas R. Lindsey, but it was Ed who was the most immediate.)
After graduating from Harvey Mudd, one of the nation's foremost math and science schools, he went on to get Master's and Doctorate degrees from USC, and became a leader in Cal Poly SLO's math department for over 30 years. Cal Poly has an annual scholarship set up in his name.
From CAL POLY REPORT DIGEST, NOV 13, 2002 D. Edward Glassco, 61
Mathematics Professor Emeritus Ed Glassco - the department's resident Macintosh computer expert - died Nov. 1, 2002 at his home in Morro Bay. Glassco began teaching at Cal Poly in 1968. He retired in 2001; however, he was still providing technology support to the department and teaching under the Faculty Early Retirement Program. He was instrumental in developing and maintaining the mathematics studio labs, and in providing computer expertise and assistance to the faculty and staff and students.
From the 1999-2000 Cal Poly Catalog p. 497 GLASSCO, D. EDWARD (1968)........... Mathematics
B.S., Harvey Mudd College, 1963; M.A., University of Southern California, 1966;
Ph.D., 1971. Professor.