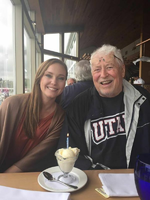 Reports on Facebook tell of the passing of Jon Greene, class of 1960, in February.
Jon served as a Los Angeles police officer for many years.
Jon was instrumental in organizing a class reunion in 1995. He arranged for a meeting facility at the L.A. Police Academy, an unusual reunion venue, but one much appreciated.
We'll have more information later.
UPDATE May 8, 2018: Jon's friend Francesca Gonzalez shared a tribute video on Google Drive.
View it here
.