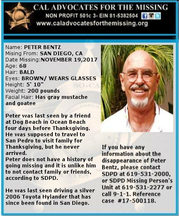 Peter Bentz '67 was last seen by a friend in Ocean Beach last November. He never arrived for a family Thanksgiving dinner. He does not have a history of unplanned absence and is normally in contact with friends and family. The accompanying notice was posted on Facebook in December by a fellow alumnus. Can you help friends and family?
UPDATE 1/24/18 — No further information in the case has been received.
UPDATE 6/14/18 — According to the San Diego Tribune, Bentz has been declared dead, and "a former acquaintance is being accused in the death.
"Police said then that it was unlike Bentz to simply disappear without contacting family or friends."
Police investigators eventually identified Brian Hancock as a suspect in the death. Bentz's body has not been found.
The Tribune continued, "Hancock, a San Diego County resident, was already in jail on unrelated charges that included cruelty to a child, burglary and possessing drugs for sale. He was re-booked on suspicion of murder on June 8, when he pleaded not guilty to a murder charge with allegations he has past convictions for arson and burglary going back to the 1990s."
Hancock is being held in lieu of $2 million in bail, facing 75 years to life in prison if convicted. Police and district attorney officials did not discuss the relationship between the two men.