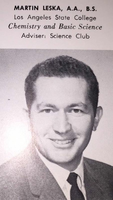 Pasadena Star-News reports: Authorities on Sunday released the identity of an elderly man who was found stabbed to death inside his Temple City early Saturday, Dec. 16.
Martin Leska, 83, was pronounced dead at the scene once he was discovered by deputies suffering from at least one stab wound just after 6 a.m. Saturday inside his home in the 500 block of Alessandro Avenue, according to Los Angeles County sheriff's officials and coroner's records.
(UPDATE: January 10, 2018 — Members of a related Temple City site on Facebook.com have reported that a suspect in the crime was apprehended and to be charged with the crime. According to the Pasadena Star News, "Homicide detectives have identified a man already in jail in Orange County as a suspect in the fatal stabbing of an 83-year-old man inside his Temple City home last month, officials announced Thursday. Jose Rosales Casas, 28, is suspected of murder for the slaying of Martin Leska, whose body was discovered on the morning of Dec. 16 at his home in the 500 block of Alessandro Avenue, according to Los Angeles County Sheriff's Department officials and Orange County booking records. He has been behind bars in Orange County since Dec. 15 due to an unrelated criminal case, records show." See also
This report
.
(Leska was a former science teacher at Temple City High School. Many former students have commented on a related page at Facebook.com.)
No motive or suspect description was known in the attack, according to Deputy Juanita Navarro-Suarez of the Sheriff's Information Bureau.
"Detectives have learned that at approximately 5:50 A.M., Temple Station deputies responded to the location regarding a 'check the welfare' call," she said in a written statement.
Deputies discovered the elderly victim had suffered, "at least one stab wound to the upper torso,' Navarro-Suarez said. An autopsy was yet to be completed, coroner's Investigator Rudy Molano said.
Public records indicated Leska had owned the home for more than a decade.
(The accompanying photograph is from the 1959-60 Temple City High School yearbook.)
Anyone with information is urged to contact the Sheriff's Homicide Bureau at 323-890-5500. Tips may also be submitted anonymously to L.A. Regional Crime Stoppers at 800-222-8477.
From the Pasadena Star-News 17 Dec 2017:
83-year-old man found stabbed to death inside his Temple City home identified
By BRIAN DAY,San Gabriel Valley Tribune
PUBLISHED: December 17, 2017 at 1:07 pm | UPDATED: December 17, 2017 at 3:28 pm