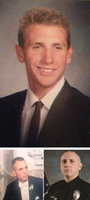 Pomona police SWAT officer Shaun Diamond, TCHS 1987, who was shot while serving a search warrant in San Gabriel has died of his injuries, authorities said, according to a report by the Los Angeles Times October 29.
"It is with a heavy heart that we must deliver the news that early this morning Pomona police SWAT Officer Shaun Diamond had succumbed to his injuries," the Pomona Police Department said in a statement Wednesday.
The mother of slain Pomona SWAT officer Shaun Diamond remembers him as a loving son who was "my hero."
Diamond, 45, was hospitalized early Tuesday October 28 at Huntington Memorial Hospital in Pasadena after authorities said he was shot ... during a predawn search warrant operation that was part of a investigation into a motorcycle gang.
In the predawn hours Wednesday, dozens of officers escorted Diamond's body from the hospital to the Los Angeles County coroner's office near downtown Los Angeles.
Diamond was a 16-year law enforcement veteran, having also served with the LAPD and Montebello police. He joined the Pomona police in 2006 and was a member of the SWAT team since 2008.
His mother, Joy Diamond, told KTLA that he was steady, reliable and kind-hearted despite cutting an imposing figure.
He also worked in police outreach efforts at Special Olympics events and participated in SWAT demonstrations for schoolchildren.
"He was supposed to fix my car today. I can't imagine life, I can't image Christmas or Thanksgiving...." she said. "We're lucky to have him as long as we did, and I have to hang on to that, " his mother Joy Diamond said.
Diamond is the fourth law enforcement officer in California to be killed in the line of duty in less than a week.
A suspect arrested at the scene was due in court October 29.