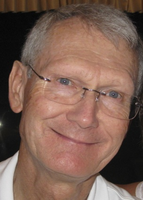 Penny Thorndyke Egan '70 has informed us of the untimely death of her brother Phil Thorndyke of the Class of 1960, who passed away September 5 after a brief illness.
In 2004 in connection with the 50th anniversary of the TC Unified School District, Thorndyke was honored by a select committee as the outstanding graduate of the first 50 years. He was also an aeronautical engineer, working for Convair and others in San Diego. He resided in Encinitas.
Thorndyke is survived by four siblings, Judy, James, Earl and Penny, all of whom attended TCHS.
UPDATE: A memorial service for Phil will be held at 1:00 pm, Sunday, October 28, 2012, at
Leo Carrillo Ranch Historic Park
, 6200 Flying Leo Carrillo Lane, Carlsbad, CA 92009. More information: 760-476-1042.