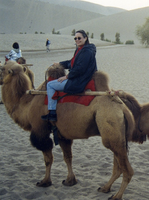 "It has been 50 years since high school graduation and have I been busy. My interests are travel and health. As for the travel, China has fascinated me since 7th grade when I read and reported on a book about Marco Polo," writes Karen Kramer of the Class of 1960.
"I would like to invite anyone with an interest to join me in traveling in China from Nov. 2 - 14, 2010," she adds. "The trip is delightfully special. We cruise up the Yangtze River for 4 days, sailing through the cultural heart of China on our way to interior cities before returning home via Beijing."
Visit Karen's personal journal
article
or her
website
for more information.