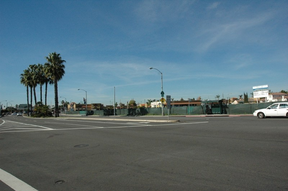 The TC "Piazza" continues its controversial ways. Namely, no progress. Several recent reports indicate the proponents have not come to grips with community and city demands regarding design, parking and other issues.
Jerry Gillette '61 recently sent the attached photo (click for full size) showing the current reality. If you like dusty fields, you'll love TC Piazza.
Older alumni remember, of course, the original Temple Theater with its western motif - including wagon-wheel fences. That structure was demolished in the 1970s to make room for a small multiplex, now also gone.
The project has not been free of political and legal controversy, with civic officials and project developers accused of bad design and legal malfeasance.
This dominant location at Rosemead and Las Tunas deserves quality redevelopment by people who care. The corner helps to define the town, and in our opinion should not be given free rein do do less.
THE PROMISE
Design
as seen by the architects.
THE REALITY
Temple City Voice
(report)
Outside.in
(news digest linking to several articles)