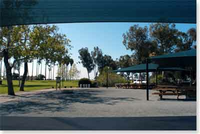 A group of brave alumni have undertaken the adventure of organizing a multi-class reunion of "Seventies People" to take place 10am to 10pm, Saturday, August 14, 2010, at Doheny State Beach. Leading the charge is
Sue Sasse Peer
(1974).
Space is limited to 500. Reservations are not guaranteed until registration fees are received. So be sure to sign up right away!
Facilities will include: Two large BBQs; 3 Sinks and Counter Space for your use. (Utensils will not be provided – Please come prepared); Picnic Tables (you are welcome to bring lawn/beach chairs or blankets, if you wish).
Food and drink will not be provided. Please plan accordingly. If you intend to stay for the entire day be prepared with a lunch and dinner, as we will be on site until 10pm.
Reservation payments will be applied to park fees, insurance fees and alcohol permit. An oversight committee is in place to monitor all monies collected and disbursed.
Hotel and Motel accommodations are available throughout Orange County, as well as the San Diego County areas. Accommodations can be made via the Internet by contacting specific lodges or more information can be obtained by visiting city and county websites. Beach camping is also available. For camping reservations, please contact
ReserveAmerica
.
Cost is as follows:
$15 per person if postmarked January 20 – April 15, 2010
$20 per person if postmarked April 16 – June 15, 2010
$25 per person if postmarked June 16 – August 13, 2010
Upon receipt of payment your name(s) will be placed on our guest list. Names must appear on the guest list for you to gain access to the site. Check in at the main gate.
Payment can be made through PayPal.Com, by sending funds to: tchsreunionmail@gmail.com. Please include the following information in the 'MEMO' portion of your PayPal payment:
Name(s) of participants (including maiden name, if applicable)
Mailing Address
Phone Number
Email Address
Year Graduated.
You can also send payment in the form of a check payable to: 'Temple City High Reunion'. Send to
TCHS Reunion, c/o 2445 N. Euclid Ave., Upland, Ca., 91784
If paying by check, please be sure to include contact information (See: MEMO instructions for PayPal).
Parking is limited and is available on a first-come / first-served basis. The parking fee is $15. Pay parking fees upon arrival. (Do not send parking fees with your reservation request). Carpools are encouraged.
An insurance policy and a liquor permit have been purchased for this event. Please note that only beer and wine will be permitted, and consumption of liquor will only be allowed in Site 'A'. State beach rules & regulations will be provided upon receipt of reservation request and payment. Rules set forth by Doheny State Beach will be strictly enforced.
* Because liquor will be permitted on site, and since there is limited space for this event, we ask that minor children not attend.
* No animals (except 'seeing eye dogs') will be allowed at the venue.
* No refunds.
HELP!
Volunteers are needed! If you are interested in any of the following positions, please send your name, phone number, email address, mailing address and position you are interested in to: tchsreunionmail@gmail.com .
1. Liaison between coordinator and classmates for the following classes: 70, 71, 76, 77, 78, 79. Liaison will be responsible for posting information about reunion on TCHS Alumni News, Classmates.com, Facebook.com, Myspace.com, or other social networks available to alumni; must be available to answer questions; must publish updates as necessary.
2. Check-In Personnel at Main Gate. This will be done in shifts, so the impact on your day will be minimal.
3. Clean-up Committee. The park has requested that the site be cleaned before our group vacates the premises.
For more information about
Doheny State Beach
, please refer to their
website
.
The TCHS Alumni Association asks that you take a minute to join the Temple City Alumni site:
http://TCHSALUMNI.ORG
.
If you are in contact with TCHS Alumni from the classes 1970-1979, please feel free to forward this information to them. We look forward to seeing you at the reunion!