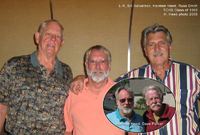 This past October I took a drive in my vintage Alfa Romeo from our home in Sarasota, FL up through the south midwest to visit fellow 1960 chums, Bill Halverson, Dave Parker and Russ Smith.  I hadn't seen Bill for forty years, Dave for fifteen and Russ for eighteen.
First stop was Bill in Nashville, TN where he showed me the Grand Ole Opry's Ryman Auditorium, the music rows where the songwriters like Kris and Willie used to hang out and where the publishers of today make deals.  After playing trombone in the orchestra, band and dance band in high school, Bill immediately went pro, swinging with big bands like Tex Beneke.  When he tired of being on the road he got into engineering and eventually producing records; he was a major producer of Crosby, Stills and Nash.  His impressive discography can be seen if you
Google his name
. He is now retired and lives quietly with his lovely Elizabeth but he does make trips up to Ohio each year to give college seminars on music. (Ed.: There are other
Bill Halversons
so unrelated links show up, too.)
Then I rolled down to Memphis, across the Mississippi and Arkansas to the little town of Dardanelle to see Dave.  After high school Dave enlisted in the Marines and, after ten years, two tours in Vietnam and a belly full of shrapnel, he was medically discharged. He then went on to two successful careers in manufacturing and construction and is now fully retired.  I spent his and merry Mary's first wedding anniversary with them in the house they just had built, down a gravel road, beside a lake.  They promised me they would drive their restored Model A down to Sarasota for a visit next March.
I had both a blast driving over the Ozarks and a drive blasting over the Ozarks to get to Russ's.  'Cept when I got me behine an ol' pickin-up truck.  I couldn't foller him close enuff to pass cause ever time he hit a bump rust would fall off'n his truck an might scratch Alfa's new paint job.  Whut I wus really fraid of wus him lobbing a big goober of tobbacy juice out whut would paint Alfa a gooey, dark brown.
About a hundred miles south of KC I turned off another county road down another gravel road to Russ and doting Donna's , new, bed and breakfast home where they live alone amid seventy-seven acres of trees and pasture.  We gathered eggs from the hen house and fed catfish from a dock on his pond across the road, next to the pasture where his miniature donkeys graze.  "Why do you have four, miniature donkeys ?" I asked.
"Because all you have to do is look at them and laugh," he replied with a smile.
Russ is a retired pilot, 747 jumbos.  He and Donna have settled there because his daughters and grandchildren live vic KC and so do her kids and grand kids.  They promised to drive down to Sarasota soon in a '57 Chevy Impala convertible.
Bill, Dave, Russ and I all retired at the age of sixty and I soon moved down to the Sun Coast of west Florida.  Jo and I would love to have any high school friends drive down for a visit.  But not in the Summer, at least not in a covertible !  
Harmon Heed, Class of 1960
(Click pic for larger view. If you have a story to share, contact us. --Ed.)