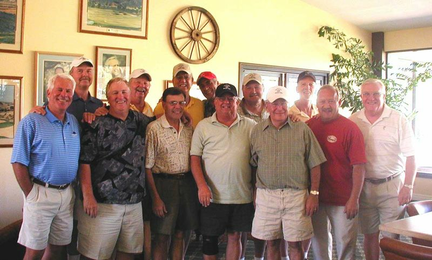 Rocky Curtiss '62 reports: The class of '62 held its inaugural golf tournament on May 16, 2008, at The Ranch at Moreno Valley Golf Club. The "boys" divided into three teams representing Emperor, Cloverly, and Longden schools.
The Longden team of John and Randy Laur, Mark Pocino, and Bill Gorisek were the victors. Other participants were Rich Borger, Ron Fazzi, Joe Terry, Gary Langdale, Roger Gould, Gary Skelley, Corky Fontana, Dick Swan, and Rocky Curtiss. We hope more will join us next year. (Click the image for a larger version.)
We will leave it to your discerning eyes to match the names with the faces after 46 years. After we've had our way with you we hope to reveal the truth.