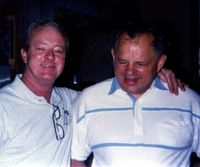 After many years teaching in Temple City, Dr. Bill Schmidt moved to Lone Pine, CA, where he became Superintendent of Schools. In the 1950s and 60s, being a blind teacher made one an instant celebrity, but most students came away understanding Schmidt's star qualities transcended his disability.
Ray Watters '62 notes: "Bill Schmidt was my 8th grade teacher at Oak Avenue School from '57 to '58.
"The accompanying photo of (us) was taken in 1995 when I roasted him at his retirement in Lone Pine, CA. At that time, he was Superintendent of Schools in Lone Pine and I lived in Ridgecrest, which is just a bit south.
"I had the speech all planned, but had to intervene when I said, 'Bill...you haven't changed a bit!' There was going to be some reference to Grecian Formula, but he spoke up and said, "Geez Ray, I thought I was blind!" That brought the biggest laugh of the evening."
(The editors invite registered users to submit their Bill Schmidt stories. While you are signed in a comment form appears below this article. We suggest you write your story off line and paste it to the form, lest all those good grammar teachers from TC schools arise and castigate you for your spelling.)