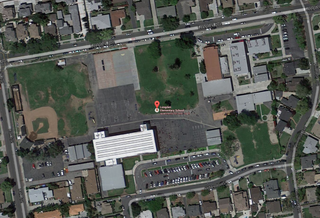 Only one school building in the photo predates the creation of TC Unified School District in 1954.
Item ID: 9128
Longden School is the former "South Santa Anita School" founded in the early years of the 20th century as the only school in the South Santa Anita School District. Until 1955, students graduating from the sixth grade went to junior and senior high school in the adjacent Pasadena district.

Only one school building in the photo predates the creation of TC Unified School District in 1954. It is the auditorium-cafeteria; its brown roof appears to the right of the central grassy area. The area to the east (right) of the auditorium with the many air conditioning units was gradually acquired after 1960. Houses formerly occupied that space.

The grassy area itself is the footprint of the original school. For about 50 years, the school was a Moorish marvel, constructed of concrete that was unfortunately unreinforced. Cool in summer, warm in winter, it was perfectly adapted to its Southern California home. In about 1970 the state legislature made local school board members personally liable for earthquake damaged sustained by occupants of any school. Panic ensued, and in two years the old quadrangle was gone, to be replaced by a nondescript blockhouse (white roof). The sole remnant of the quadrangle is a lone redwood near the upper left of the grass. It formerly had a partner, but someone forgot to water that one.

The tennis courts have been moved (date?) from their original location at the northwest corner of the property. In 1950, twenty-five cents bought one hour of electric light.

The original property consisted of the grassy northwest corner, the baseball field (Temple City Little League and school games), the white blockhouse and adjacent hard surface, the tennis courts, the central grassy area, and the auditorium. The balance was acquired in the 1950s and 1960s.

The auditorium is named Memoli Hall in honor of Philip Memoli, who after retiring from a long career as a symphony musician taught music to a generation of children in the 1940s and 1950s. Slight of frame and warm of heart, he paved the way for the excellent bands for which TCHS was known from its inception.

The area to the west of the blockhouse is used for district maintenance purposes, formerly including bus repairs and more.

Contributions and corrections are welcome.

Rees Clark '60, August 2014.