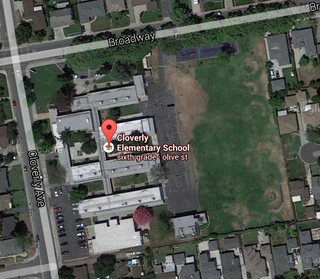 Opened in 1949, Cloverly was the second school in the South Santa Anita (K-6) District.
Item ID: 9126
Cloverly School was built in 1949.

The main axis and the two large eastward-pointing wings are original.

The central large cafeteria and auditorium were added soon after the opening, by the early 1950s.

The large building at bottom is later.

Unfortunately, "temporary" classrooms have been a TC Schools hallmark for most of its history. Where is Planned Parenthood when we really need them? :-)

The evolution of the buildings is unclear. Please help us to reconstruct its history.

R. Clark '60. August 2014.