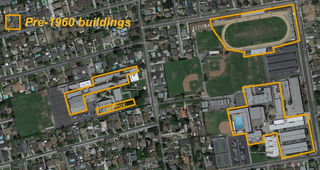 Oak (TCJHS), c. 1950. TCHS, 1956, as they appear in 2014.
Item ID: 9125
Sky views of Oak Avenue Intermediate School and TC High School in Temple City, CA.

Oak Ave was the former Temple City Junior High School, part of the Pasadena School District, After the TC district unification in 1954, the name was briefly changed to Temple City High School for the 1955-56 academic year and then to the present name. The two long buildings at the mort (top) of the campus are original; another long narrow building stood along the driveway that spans the south side. Near the large gymnasium building at the center of the campus there was originally a parking lot and a driveway to Emperor Ave. where one of the adjacent houses now stands.

Temple City High School was built in 1956 and partly opened in September, though the students had to walk back and forth to the old campus for some classes. Ten minutes were allowed between classes, and the lack of lockers made for strong or weary backs depending on one's constitution.

The campus was built on the site of a farm operated by Cal Tech on which agricultural experiments, some involving the effect of residues from atomic testing, were conducted. Jean Anderson '60 lived on the farm before the HS was built and was a lovely girl, so apparently nuclear residue is good for us. On the other hand, enormous man-eating cornstalks came up through the pavements for years.

The three buildings at the southeast corner (lower right) are original, as are the cafeteria-auditorium (perpendicular to the most northerly of the three near its west end) and the gymnasium, large building across the open space from the cafeteria. The shop building (U-shape) north of the gym was built early, before 1960, but someone will need to confirm the date. The library (white roof) and the science building (along TC Blvd) were added in (a little help here, please). The football stadium opened for the 1959 season.

Enhancements welcome. R. Clark '60, 2014.