Most of TCHS Alumni News content is free and public. Selected content requires registration, which is free. Optional subscriptions give access to additional features, and paid members are eligible to help make decisions about the development of the association and the site.
Benefits
ANNUAL MEMBERSHIP $12.
You will be billed after a five day free trial (cancel before five days and pay nothing) and annually thereafter at the same low rate. The procedure creates an account that will bill your card annually for 20 years, after which your annual membership will convert to a lifetime membership.
LIFETIME MEMBERSHIP $168.
This is a one-time payment, and no billing account will be created. (Our card processor may offer you an account; it is optional.) Your prepaid lifetime membership saves you about 30 percent over 20 years compared to annual payments. Over time you will automatically receive any new benefits and privileges associated with membership.
Why Subscribe?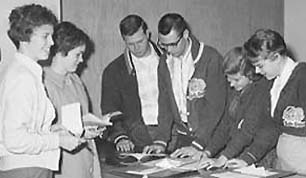 Your subscription keeps this site on line, linking members across the US and in several foreign countries, and any surplus (we keep hoping) is accumulated for development of a scholarship fund. You help to defray the very real cost of providing the alumni news and roster site. Paid membership in TCHS Alumni News Assn. also offers many other benefits. Subscribers help to determine the course of the association, and they can
look up and contact other alumni via private messaging
create a personal page with blog and personal gallery
create and comment on news items
add or moderate topic(s) in alumni bulletin boards
receive heads-up mailings on special events and opportunities
serve as class editor/coordinator and edit a class site
participate in assn. elections; be eligible to hold office
serve on the association's board of directors by election
post a free listing in our sponsor directory
Non-members can use many public features of the site. Full membership is by subscription only.
Billing
You will be billed securely to any major credit card. Your credit card statement will reflect a charge by Clark Internet, our web host, for TCHS Alumni Assn. Membership (may be abbreviated). If you are subscribing annually, our provider will attempt to bill the same credit card each year. Thanks!