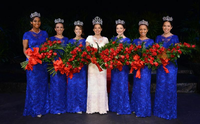 TV station KTLA reports "Victoria Cecilia Castellanos, a senior at Temple City High School, will reign over the 128th Rose Parade. Castellanos, 17, is involved in musical theater, volunteers with animal groups and the American Legion and enjoys creative endeavors like writing short stories, reading and painting.
"Other 'princess' finalists include Maya Kawaguchi Khan, of Arcadia High School; Natalie Rose Petrosian, of La Cañada High School; Audrey Mariam Cameron, of Blair High School; Autumn Marie Lundy, of Polytechnic School; Lauren Emiko Powers, of Arcadia High School; and Shannon Tracy Larsuel, of Mayfield Senior School.
"Castellanos will preside over this year's parade, themed 'Echoes of Success,' and will attend the 103rd Rose Bowl Game on Jan. 2, 2017. The Rose Queen is also expected to make more than 100 other media and community appearances throughout the year," KTLA reported.
Image credit Tournament of Roses.